The place to experience the harmony and simplicity of the most delicious dishes in Europe, fascinated with every tender meat of the delicious steak of Australian beef steak. in a luxurious and sophisticated space
A round of European cuisine on Port City - Texgrill Restaurant
European cuisine is always praised by the world for its harmony, sophistication, simplicity and elegance, attracting diners passionate about cuisine around the four directions. Now you will not need to go to the distant sky because all the quintessence of the best dishes in Europe have converged on Texgrill for you to discover.
Texgrill- A variety of dishes
Texgrill is the first restaurant in the chain of 06 brands of 3AE group, this is considered the first child, the foundation for the company to continue developing the next restaurants. Currently, in addition to Texgrill Minh Khai and Van Cao restaurants, Texgrill has an additional facility located in Vinhomes Imperia, Hai Phong.
No need to dream about the dreamy European skies, you can also enjoy the delicious BBQ ribs, fascinated with every tender meat of the delicious Australian beef steak. Nor do you need to go to Italy far away, the legendary Italian cuisine has been brought to your table by Texgrill chefs. Take a bite of a hot pizza with aromatic cheeses and a crunchy crust, and add a little spicy red chili sauce that you can enjoy your dinner with your family and friends.
After finishing an interesting trip with Pizza at Texgrill Hai Phong, try the taste of greasy spaghetti with minced beef sauce, seafood, chicken mushrooms, ... A noodle dish that looks familiar but with experience. and the profound career "mind" of the talented chef will give you to enjoy the unique flavors, excellent and sometimes you will hesitate to eat that "art work".
You will be extremely satisfied right from the first round of the menu because of the great diversity, no matter how difficult a customer is, Texgrill Minh Khai, Van Cao or Vinhomes Imperia also, will also make you satisfied and find a food that suits you. With every single dish, Texgrill always has all sizes for you to choose the right meals.
Luxurious space, European class
True to what you have promised is that you do not need a long-distance flight and still be able to come to the land of magnificent Europe. A miniature Europe in the heart of Hai Phong city is packed with classic architecture, traditional brown - red tones exuding the flair that attracts diners at first sight. In each space, you can clearly feel European architectural style. It is a bar with the best bottles of wine in the world; It is a unique and unique menu designed for those who want to discover the "unmistakable European standard" of great attractive dishes.
Texgrill is also very clever when entering the space a little green of flower baskets, not too much but enough to bring pure nature to the guests for meals.
Especially, Texgrill also has a VIP area above the 2nd floor, dreamy balcony for customers who want a space that is both private and romantic. Stay with him and enjoy unique European dishes, sip a glass of wine, listen to melodious music by shimmering candle light and enjoy salads, steaks, grilled ribs.
Professional and flexible service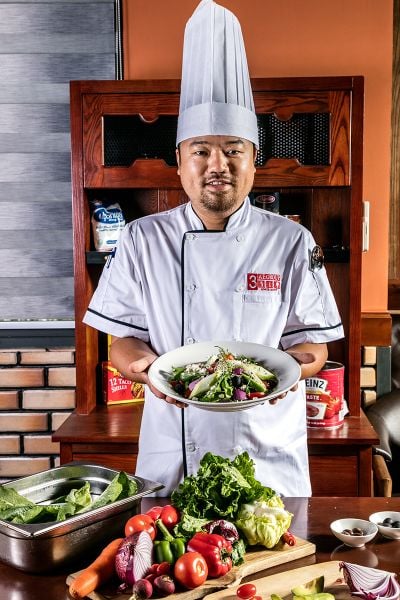 In addition to bringing Vietnam the characteristics of European cuisine, Texgrill is also an ideal destination for extremely romantic couple parties, birthdays, parties, holidays for families. Family, colleagues, friends, is the place of exchange of domestic and foreign guests ... with professional and thoughtful service.
Besides, Texgrill also has a team of staff specializing in organizing events, performing large-scale parties such as outdoor parties, conferences, customer events, partners ... to meet all needs of customers. .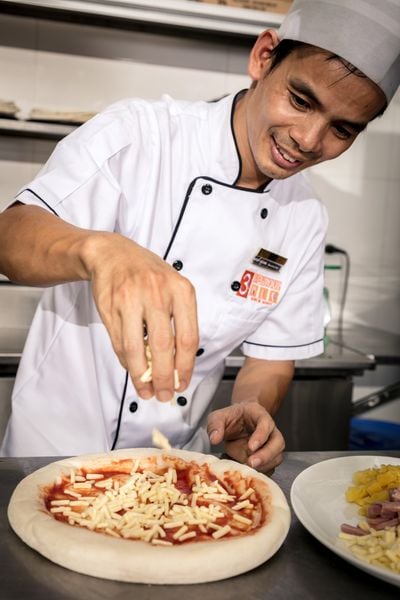 In recent times, besides offering promotions for Combo, public holidays, buying 1 get 1 free every Wednesday, Texgrill also promotes door-to-door delivery to get closer to customers, especially customers in suburban areas. If you are looking for a perfect service like that, Texgrill is always ready to serve and make you satisfied.
---
Texgrill- Brand of 3AE Group
27 Minh Khai - 02253 822 689
111C Van Cao - 02253 653 450
BH03-23 ​​Manhattan 10, Vinhomes, Imperia - 02253 820. 883